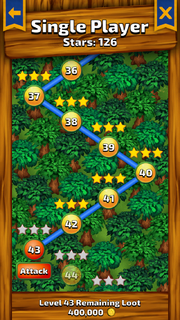 Spelldom Single Player mode allows you to continue your battle against the Dark Elves. There are 50 levels of progressively more difficult towns to test your spelling prowess and strategic might. You can earn up to 3 stars on each level: 1 for taking the
Castle
, 1 for looting all of the
Gold Wheels
, and 1 for meeting or exceeding the Point Goal.
There are several achievements related to Single Player mode. The Bronze Achievement, Dark Elves' Annoyance, requires you to win 15 stars in Single Player. Enemy of the Dark Elves is a Silver Achievement for scoring 50 total stars. If you manage to get all 150 stars, you're awarded with the Platinum Achievement, Dark Elf Extinction. There's also unique Platinum Achievement, Bomb Squad, that requires you to disable 15 Bomb Plants in a single attack on level 50.
Ad blocker interference detected!
Wikia is a free-to-use site that makes money from advertising. We have a modified experience for viewers using ad blockers

Wikia is not accessible if you've made further modifications. Remove the custom ad blocker rule(s) and the page will load as expected.