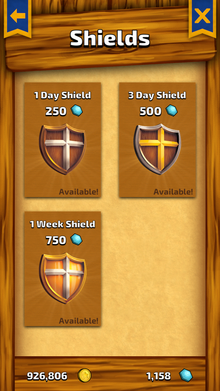 Shields protect your town from rival players. As long as you have an active Shield, your town cannot be attacked. You get a 2 hour Shield whenever your opponent attacks you. The Shield will last 4 hours if your opponent gets 1 star, 8 hours if your opponent earns 2 stars, and you'll get a 12 hour shield if your opponent scores 3 stars. If you start a Multiplayer attack, you will immediately lose your Shield. Single Player attacks and playing the Daily Game will not affect your Shield, though. Shields are also available for purchase in the Market, in 1 day, 3 day, and 1 week increments.
Ad blocker interference detected!
Wikia is a free-to-use site that makes money from advertising. We have a modified experience for viewers using ad blockers

Wikia is not accessible if you've made further modifications. Remove the custom ad blocker rule(s) and the page will load as expected.