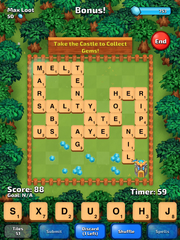 There are 2 Daily games in Spelldom: The Daily Champ and the Daily Gem Grab. The Daily Games are some of the best places to earn Gems. Everyday you get one chance to play each of the Daily Games.
In The Daily Champ, there is a different tournament format each day of the week, with a specialized layout designed just for that day. Formats include scoring the most points, playing the most tiles, reaching the Castle the fastest, spelling the most words, covering the most edge tiles, playing the highest scoring single play, and forming the most 5+ letter words. You get 5 gems just for playing and another 5 gems for reaching a target score. Each day, the first, second, and third place finishers win 100, 50, and 25 gems, respectively.
For the Daily Gem Grab, you'll be transported to a defenseless town with gems scattered around the board. Try to pick up as many gems as you can before crushing the Castle within the time limit. If you don't take the Castle before time runs out, you can only keep half of the gems you collect. Every consecutive day that you play the Daily Game, there will be more gems available to collect, with a massive gem grab on day 10. After day 10, your streak will reset to zero, and the progression starts over.
| | Day 1 | Day 2 | Day 3 | Day 4 | Day 5 | Day 6 | Day 7 | Day 8  | Day 9 | Day 10 |
| --- | --- | --- | --- | --- | --- | --- | --- | --- | --- | --- |
| Gems | 4 | 6 | 8 | 10 | 12 | 16 | 20 | 24 | 28 | 50 |