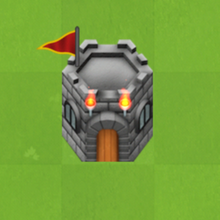 The Castle is the key to your town. If it falls in battle, you are defeated. You can upgrade your Castle to unlock new and improved Defenses, as well as to hold more Gold. Higher level Castles require your opponent to score more points for a 3 star victory. Once your Castle reaches higher levels, both your Castle and Gold Wheels will possesses the magic to move further west across your town. The Castle is home to our magical letter crafting Elves, so make sure to refill your Tile Bag here before heading to battle.
Ad blocker interference detected!
Wikia is a free-to-use site that makes money from advertising. We have a modified experience for viewers using ad blockers

Wikia is not accessible if you've made further modifications. Remove the custom ad blocker rule(s) and the page will load as expected.