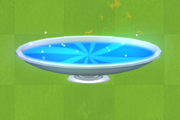 Our Elves were able to synthesize the magic of both the Fire Cauldron and Blizzard to create the ever-burning Blue Fire. Your opponent can delay the inevitable combustion of her tiles by 5 seconds with each successful play. Upon combustion, your opponent will be frozen if she hasn't played enough moves.
Ad blocker interference detected!
Wikia is a free-to-use site that makes money from advertising. We have a modified experience for viewers using ad blockers

Wikia is not accessible if you've made further modifications. Remove the custom ad blocker rule(s) and the page will load as expected.